For Health –> How We Do It –> Pricing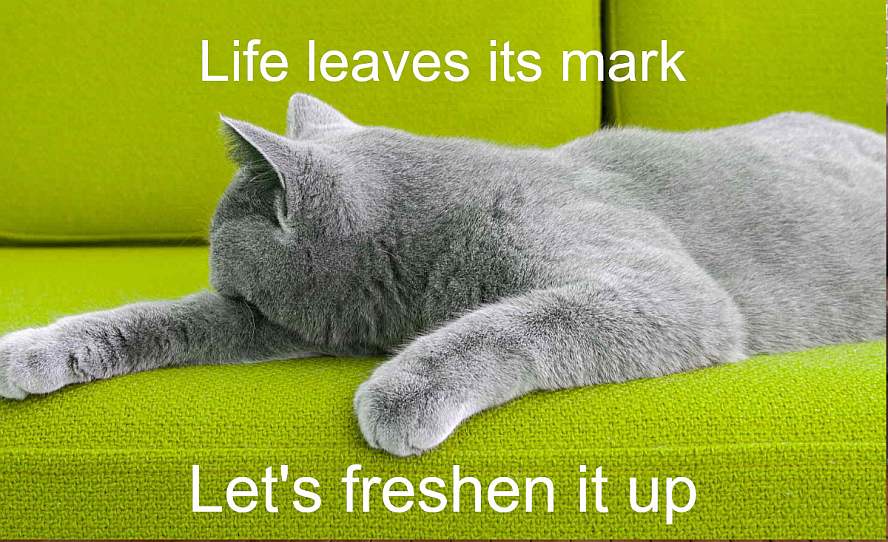 Areas We Serve in Florida: Citrus Park * Clearwater * Dunedin * Largo * Oldsmar * Palm Harbor * Pinellas Park * Safety Harbor * Saint Petersburg * Seminole * Tampa * Tarpon Springs * Town & Country
Protect your delicate cloth upholstery with the right kind of cleaning. Most cloth upholstery is vulnerable to being damaged it by the wrong cleaning agent and/or by rubbing too hard or too much. 
Some mistakes are made inadvertently by not understanding a particular fabric type. That can make a real mess of things.
Wine stains are treated differently from food stains. Ink and crayon issues require different cleaners from those even. Pet and human "accidents" are different from that – even the processes change whether it's urine, feces or vomit. That's one reason you really do want someone that knows what they're doing.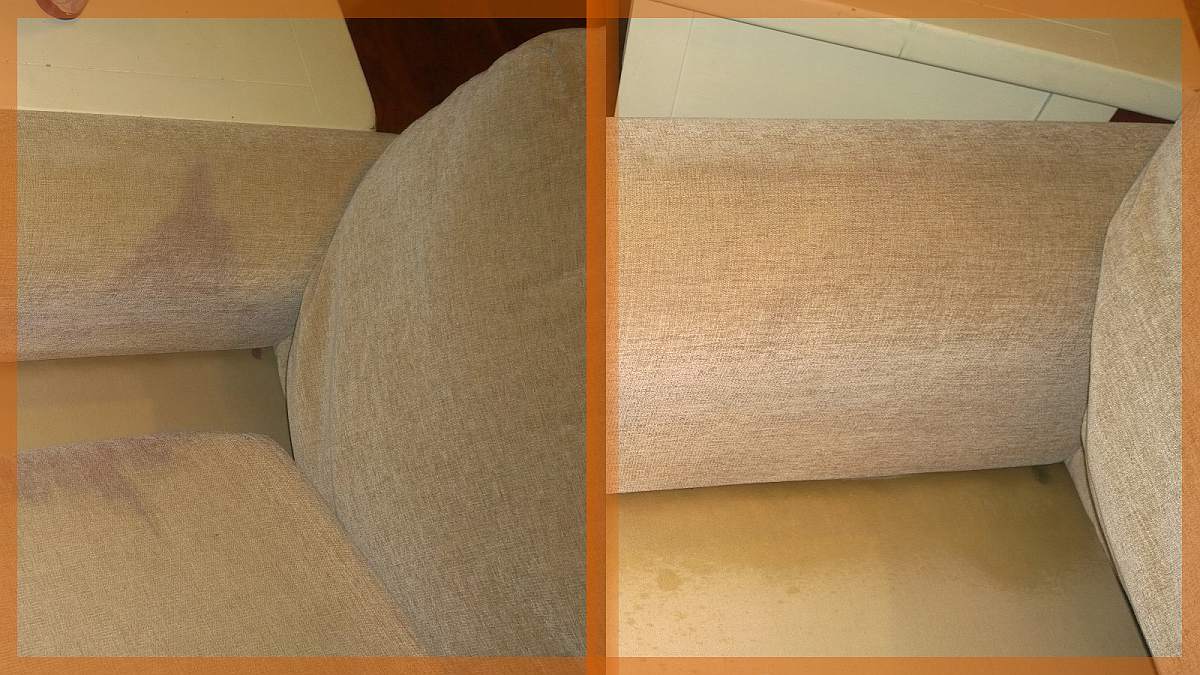 Your fabric couch may not look especially dirty, however, a subtle dinginess happens without you even noticing. Just like it settles everywhere else, dust and grime settle on your sofas, love seats, and chairs.
A thorough professional cloth upholstery deep cleaning can take years off your chair, sofa or loveseat's appearance. Most people get their entire sectional or living room set done at one time.
Fabric Cleaning is Good For Your Health
When your skin comes in contact with the fabric, your natural body oils and sweat get transferred onto the fabric. These become absorbed and embedded into the fibers of the material. As a result, your furniture becomes a breeding ground for allergens, bacteria, and dust mites. (Who knows what other creepy micro-organisms might be in there.)
The American Lung Association states: "Mites are one of the major indoor triggers for people with allergies and asthma. Dust mite exposure can even cause asthma." (You'll find more info on the mattress page.)
When you deep clean your furniture's upholstery on a regular basis, it mitigates these health risks. In addition, professional fabric furniture cleaning will extend the life of your furniture.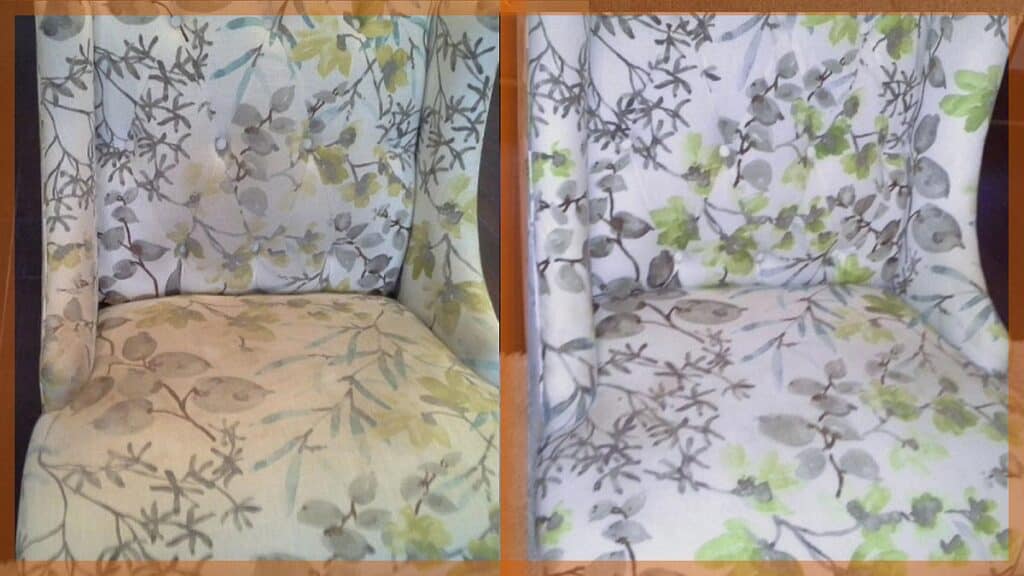 You know how it is.
The Dreaded Spill happens to everybody sooner or later.  Even though you suddenly turned into an Olympic sprinter for the nearest absorbent material, you didn't quite get it all and now you keep seeing that spot.
Or did you just happen to notice one day that the cloth on your furniture looks kind of dingy. So you trot out your trusty vacuum and have at it.  And you stand back proudly to see… well… despite all that work, sadly it still looks a little shabby to you.
Why Professional Deep Cleaning?
Sure, you can do it yourself. There are plenty of DIY fabric cleaning instructions out there on the wild, wild web. But why bother doing all that work yourself? Besides, you'd need to buy a machine, know what cleaners are safe for your particular upholstered furniture, and then not rub too hard. Just do it the easier way and call us.
First, we determine the type of fabric and select the appropriate cleaning system and cleaning agents.
We look carefully at the stains, identifying the type of each problem stain if possible.
We pre-treated those stains with the correct pre-spotter that will be safe for your particular fabric.
Then we remove the heavier stains and soil using white towels (and elbow grease).
Next, after the worst of the spots are treated, we clean the entire piece.
We remove the cleaning solutions out of the fabric by using an extraction machine.
We check for cleanliness with white towels. If soiling remains, we repeat the needed steps all over again.
We set it all up for proper drying and let you know how long it will take.
While we are there, we will take the time to cheerfully answer any questions you have and give you a mini-education on how to properly maintain your treasured furniture. Grant Dansby, the owner, is a nationally certified (IICRC) Master Textile Technician with 40 years experience in the fabric furniture cleaning industry.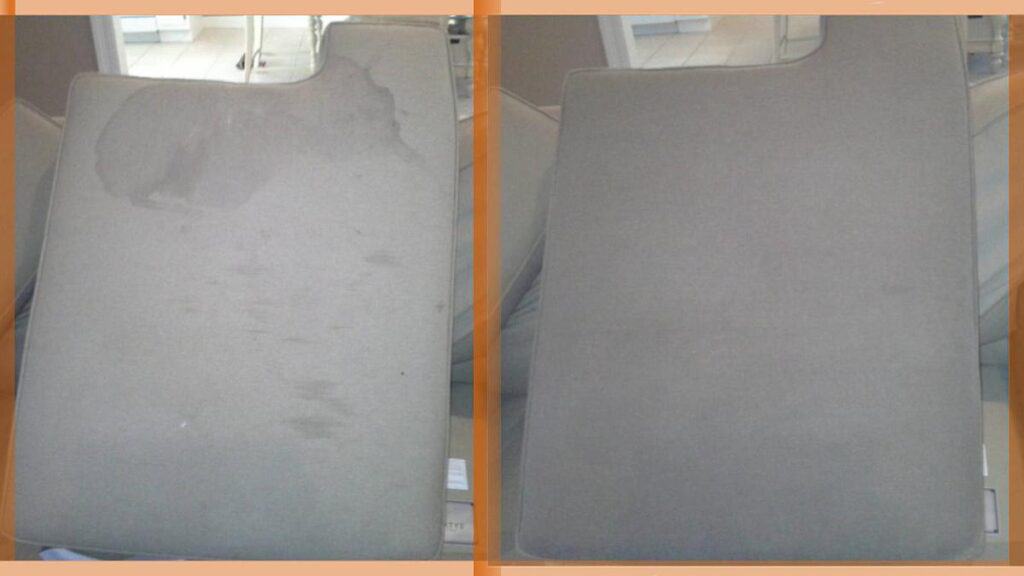 Areas We Serve in Florida: Citrus Park * Clearwater * Dunedin * Largo * Oldsmar * Palm Harbor * Pinellas Park * Safety Harbor * Saint Petersburg * Seminole * Tampa * Tarpon Springs * Town & Country