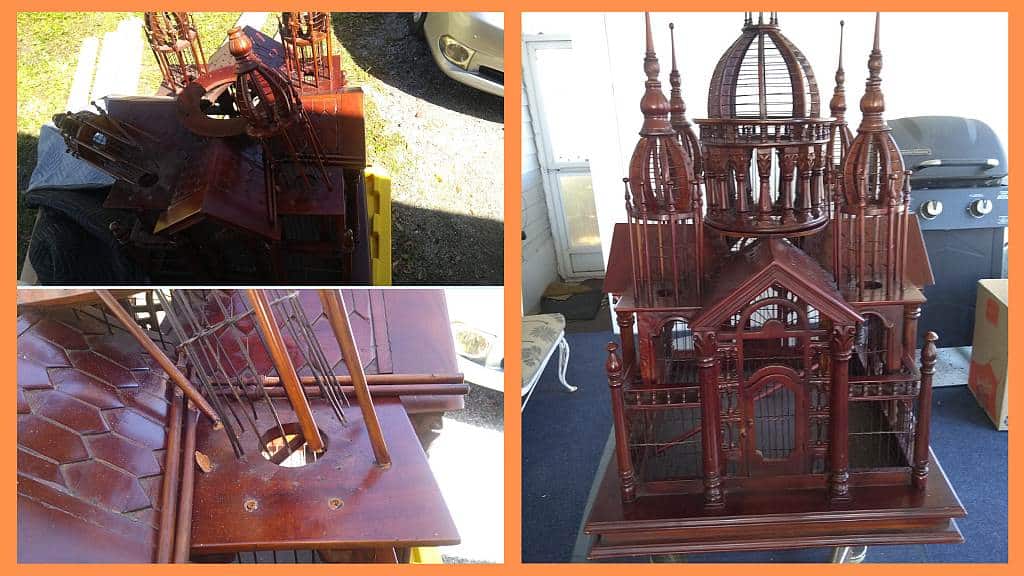 Areas We Serve in Florida: Citrus Park * Clearwater * Dunedin * Largo * Oldsmar * Palm Harbor * Pinellas Park * Safety Harbor * Saint Petersburg * Seminole * Tampa * Tarpon Springs * Town & Country
Wood furniture seems to be the ultimate testament to "Life Happens." No matter how careful you are, sooner or later, you need wood furniture repair.
Things break. Treasured wood furniture gets scratches, dings, chips, water stains, heat marks, ink stains and too many blemishes to name. We do a lot of living on our wood furniture – with our grandkids, our pets, and, well, messes happen. Even artistic children (of all ages) can add their touch.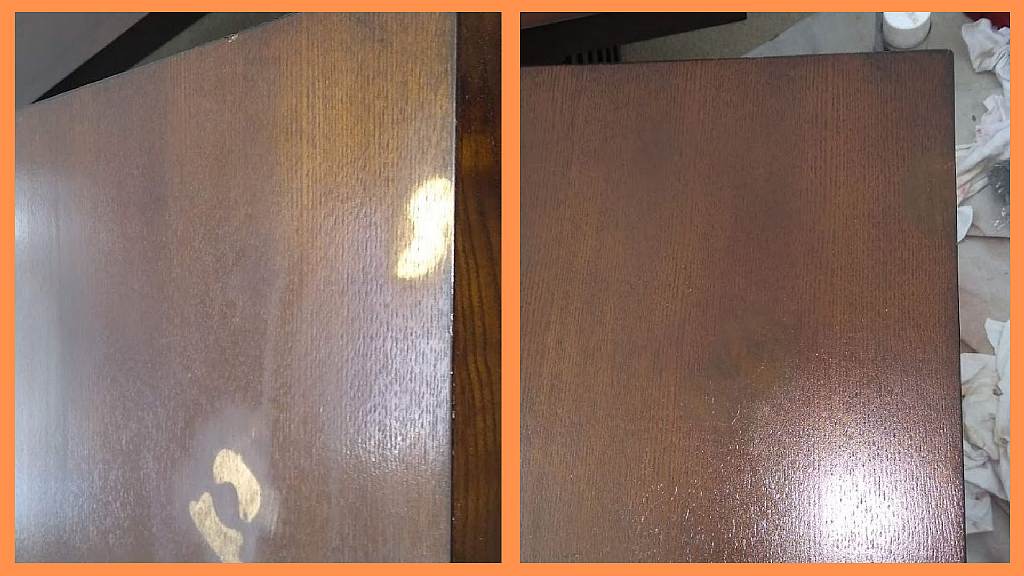 If you're anywhere in Tampa Bay – Hillsborough & Pinellas Counties (plus) and you searched for "wood furniture repair near me", you're in the right place. We're a mobile service. We come to you.
Take heart, we can fix both the cosmetics and structure of most furniture.
Cosmetic Wood Furniture Repair
At MasterTech Furniture we can repair the damage and restore the innate beauty of your wood furniture. With 20 years experience in repairing fine furniture, your beautiful wooden furniture pieces can often look like "it didn't happen."
There are a myriad of wood colors, grains, and finishes on wood furniture. The types of finish are almost as varied as the people that own them. There are colors from pine and blond to dark mahogany. There are textures from matt to high gloss and everywhere in-between.
Beautiful wood often has a rich grain that includes a surprising variety of colors when you look closely. Those striations and variations have to be recreated for the repair to look spectacular.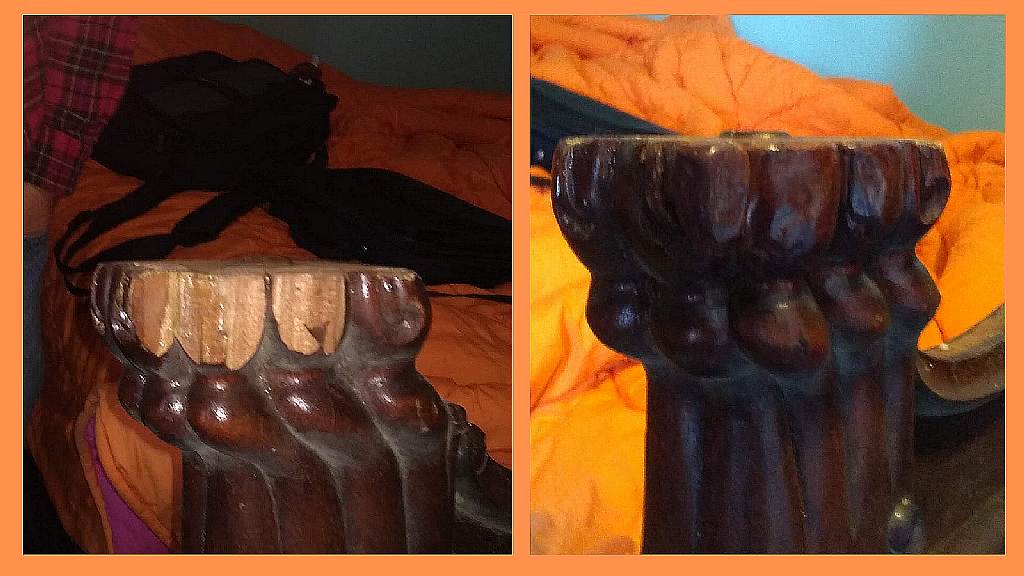 Wood gets gouged or scraped easily. Nail polish or nail polish remover spills tend to remove the finish. Or like the next picture
Gouges or dog chew marks have to be filled back out, recolored and the entire atrocity to your furniture hidden.
That's our job. That's what we do. We hide the atrocities that happen to your furniture.
Chairs hitting the edge of the table can damage both the table and the chair. Big or little feet scuff chair rails. Puppies chew the legs. Dogs corners. A hot plate slips off the trivet. That great smelling oil diffuser just ruined the finish.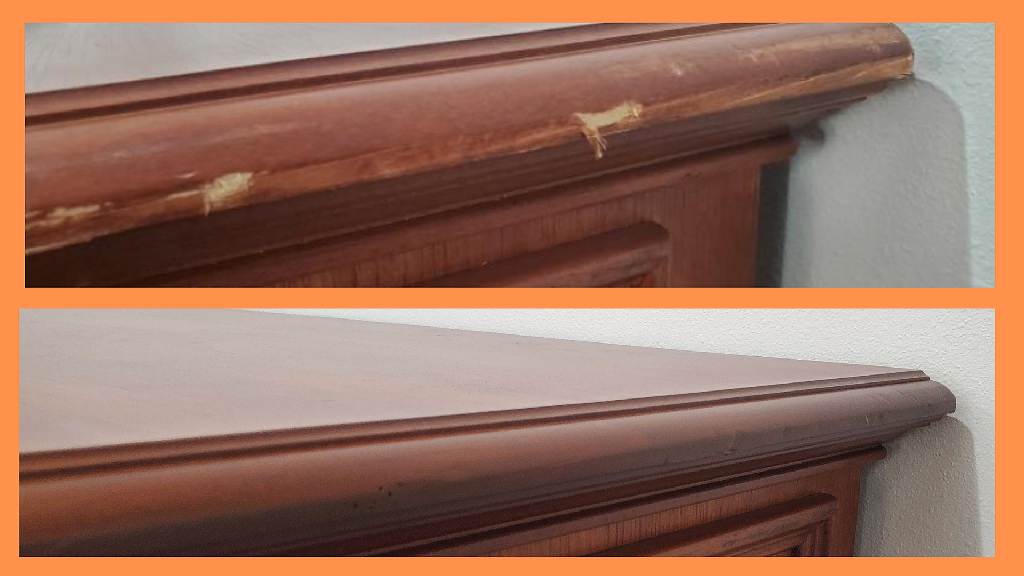 We'll fix the scratch, even if it's a deep gouge. We'll remove the evidence of your teenager's bed table carelessness. We'll fix the ding that the broom caused when it fell on your buffet.
Before your next big family dinner, we'll magically make the water stains disappear from that beautiful living room coffee table. We'll remove the heat marks from your dining room table. We'll remove the ink stains from your end table, too
That's moving damage above. We repair quite a bit of that.
Structural Wood Furniture Repair
We can put the legs back on and fix most things that happen with wood structure.
Florida salt-water air is particularly hard on wood joints and finishes when repeatedly exposed. Especially for snowbirds who don't always leave the AC on full for six months. The moisture in the air keeps the joints tight, especially the tongue and groove type. After decades in temperature controlled, humidity controlled homes, though, the wood can dry. When it does, it pulls back from the joints, which get loose and begin to creak. Or worse, it can cause wood it to crack or split.
So let's get wood furniture repaired as soon as possible to keep it beautiful for a lifetime.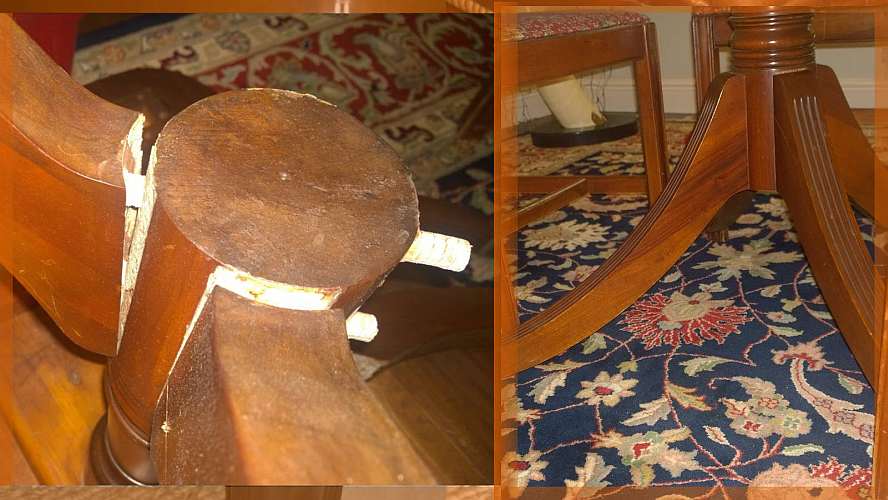 See more wood repairs in the Gallery.
Areas We Serve in Florida: Citrus Park * Clearwater * Dunedin * Largo * Oldsmar * Palm Harbor * Pinellas Park * Safety Harbor * Saint Petersburg * Seminole * Tampa * Tarpon Springs * Town & Country
Areas We Serve in Florida: Citrus Park * Clearwater * Dunedin * Largo * Oldsmar * Palm Harbor * Pinellas Park * Safety Harbor * Saint Petersburg * Seminole * Tampa * Tarpon Springs * Town & Country
---